Smart research
Thousand2 has developed a cutting -edge website at the request of Sacem Srl dedicated to medical equipment. The platform will act as a complete resource for operators and health institutions, offering detailed information on the product, reviews and the latest progress in medical technology.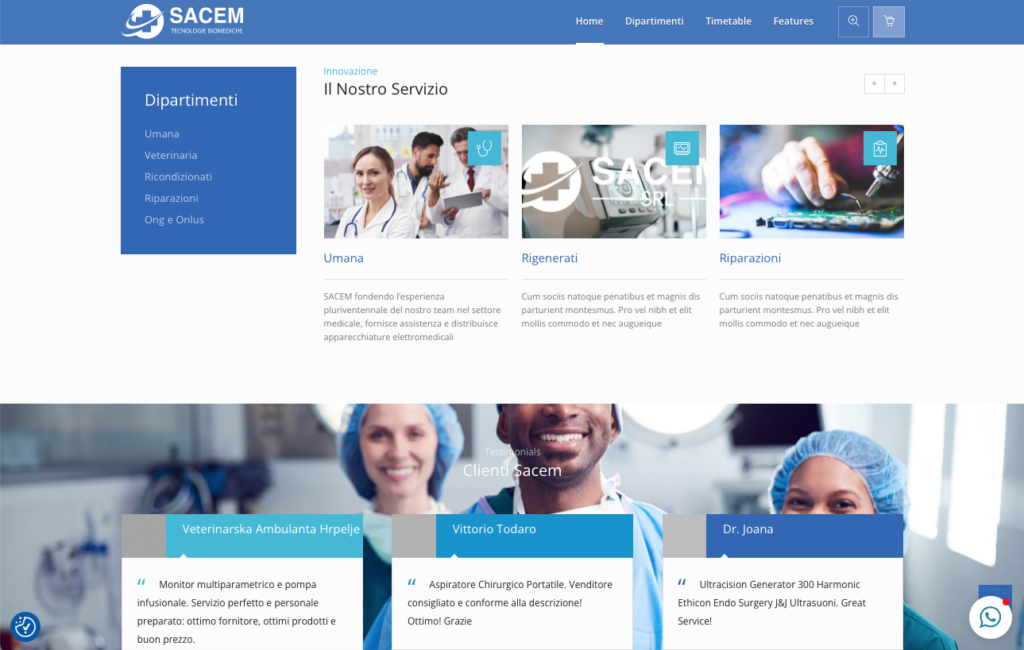 ** Design **: We have created an attractive and professional design. The layout is clean and organized, the images are clear and the text is easily readable.
** Usability **: We have verified that navigation is intuitive, if the menus are clear and if it is easy to find the information you are looking for. The site is accessible by both desktop and mobile devices.
** Content **: Care of the content of the information and accurate site. We made sure that the information is updated and relevant to the theme of the site.
** Loading speed **: a website should load quickly. The timing of the Sacemsrl.net site uses loading times that do not make you lose interest in visitors.
** compatibility of the browser **: the site works properly on different browsers such as Chrome, Firefox, Safari, etc.
** Security **: The site uses HTTPS to ensure a safe connection. Safety is important to protect user data.
** Interaction **: The Site requires user interaction, such as compilation of modules or sending data, we have verified that these processes are easy to follow and that the instructions are clear.
** Reply to devices **: the site is responsive, adapting to different screen size and devices, such as smartphones and tablets.
** Contacts **: verified that the site provides clear contact information, such as an email address or a telephone number, if you want to contact the company or the owner of the site.
** Reviews and feedback **: We have enabled feedback to get an idea of the experience of other users with the site.